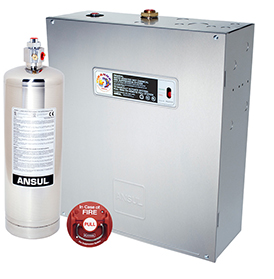 The PIRANHA Dual-Agent Restaurant Fire Suppression System employs the best firefighting attributes of two extinguishing agents: the fast flame knockdown and securing power of wet chemical and the fast cool-down capability of water. The system provides protection for settings such as casual and fine dining, fast food chains, culinary schools, sports complexes and stadiums and four-and five-star lodging facilities.
The only agent-plus-water fire suppression hybrid on the market today, the PIRANHA System outperforms all conventional single-agent systems. The system attacks fire using the rapid flame knockdown and the securing capabilities of PRX Liquid Fire Suppressant. After that, water follows, quickly cooling the cooking media and further helping to prevent reflash.
Tests have shown dramatically increased firefighting performance:
Twice the coverage of conventional single-agent systems.
15 times faster than conventional single-agent systems in cooling down cooking oils
Reliable gas cartridge operation.
Five-year limited warranty.
60 percent less chemical agent required and covers hazard areas better.
Smaller and fewer agent storage tanks required per system.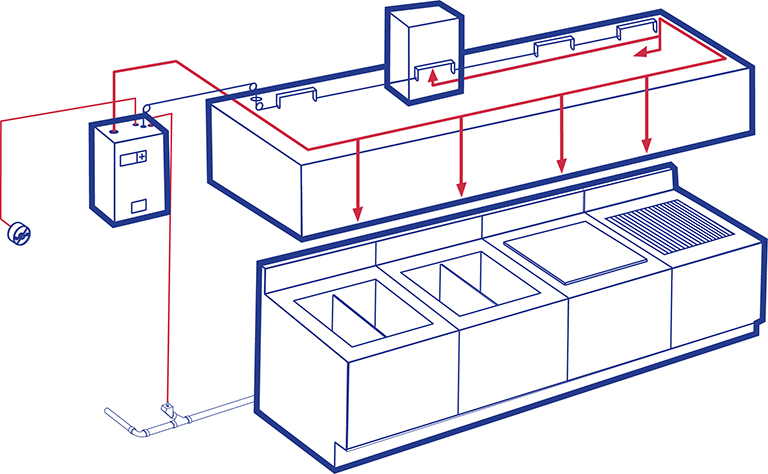 Global Approvals
UL, ULC, ASSE, LPCB, IAMPO and CE approved or listed.
Common applications for PIRANHA systems include airports, casual and fine dining restaurants, catering facilities, culinary schools, expo kitchens, four-and five-star lodging facilities, hospitals, nursing homes, sports complexes and stadiums.
Extensive UL 300 Listed Non-Standard Cooking Appliances
Fryers
Belshaw Century Fryers
Donut Fryers
Broilers
Nieco Broilers with/without catalysts
Marshall Air Chamber Broilers
PIRANHA Dual-Agent Restaurant Fire Suppression System-Increased Nozzle Heights
High proximity nozzles are now offered with PIRANHA systems help to meet the need for more aesthetically pleasing cooking and dining environments. The UL listed nozzle design allows appliance protection nozzles to be installed up to 84 in. (2133 mm) above the cooking hazard, nearly flush with the top of the hood, and out of view while providing the same reliable protection that PIRANHA systems have always offered.
Added benefits of high proximity nozzles include:
High proximity nozzles offer reliable protection while remaining out of site.
UL listed for multiple appliances
Complements kitchen décor
Reduces potential for nozzle redirection or obstruction
Reduces potential for grease accumulation around the nozzle
Eliminates visible nozzle drop piping
Helps simplify cleaning and service
Easy to upgrade existing systems