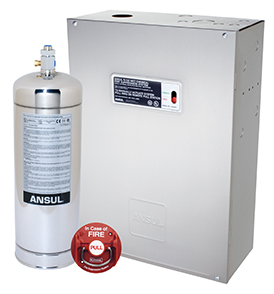 Major brands across the world rely on ANSUL® products to help protect kitchens from fire.
The R-102 Fire Suppression System incorporates a flexible design with an extremely effective ANSULEX Low pH Liquid Agent. ANSULEX quickly knocks down flames and cools hot surfaces, while generating a tough vapor securing blanket that helps prevent re-flash.
The R-102 system is designed to protect areas associated with ventilating equipment,
including hoods, ducts, plenums and filters. It also protects auxiliary grease extraction equipment and cooking equipment such as various types of fryers, griddles, rangetops, broilers, char-broilers and woks.
The system is ideally suited for commercial kitchens in fast food chains, retail food courts, diners, convenience stores, catering facilities, mobile food trucks, hotels and casinos, stadiums, schools, hospitals and more.
The R-102 system is offered in two designs: Appliance-Specific and Overlapping.
The appliance-specific design aims the nozzles at the specific hazard areas of each appliance. With the overlapping design, nozzle placements overlap creating a zone of maximum fire protection. Overlapping coverage allows appliances to be rearranged without a need to adjust the nozzle placements.
An aesthetic stainless steel enclosure to complement the kitchen design.
Ease of recharge and post-fire cleanup.
Reliable gas cartridge operation.
Five-year limited warranty.
A flexible agent distribution hose allows appliances to be moved for cleaning purposes.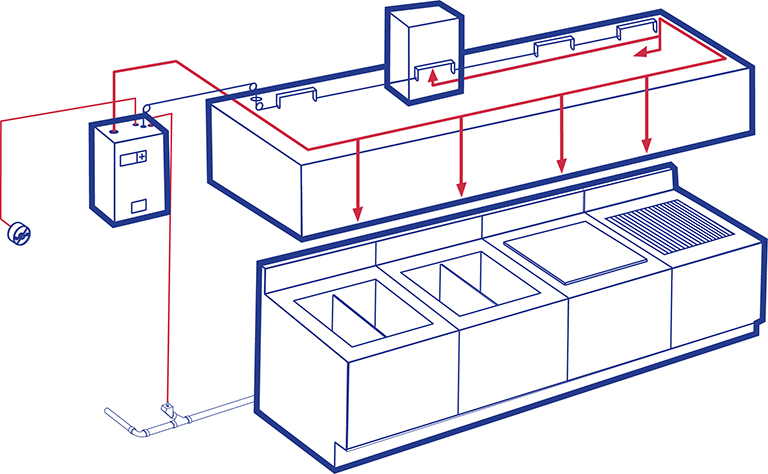 Global Approvals
The system is UL/ULC listed; CE marked; COA, LPCB, TFRI, MED, DNV, ABS, KFI, and Lloyd's Register approved and meets NFPA 96 and NFPA 17A requirements.
Extensive UL 300 Listed Non-Standard Cooking Appliances
Fryers
Dean Industries Gas Fryers
Far West Hospitality Products Gas Fryers
Frymaster
Frymaster Energy Efficient RE 14 Fryers
Henny Penny Mono Rail Center Lift Systems
Henny Penny Dual Lift Systems
Belshaw Century Fryers
Donut Fryers
Broilers
Garland Electric Dual-Side Clamshell Broilers
Duke Chain Broilers
Nieco Broiler with/without catalysts
Bakers Pride Broilers (With wood smoker box)
MagiKitch'n Gas Radiant Broilers (With wood smoker box)
Marshall Air Chamber Broilers
Marshall Air Electric Broilers
Grills
Garland
Taylor
Platen Clamshell Grills